Sidebar Nav

Lion Safari
Lions are one of the most magnificent creatures that roam the earth and carry a unique presence that distinguish them from any other animal. Have you ever wanted to immerse yourself into their magical world to figure out why these beasts are known as the kings of the jungle? Do you want to understand their nature and analyze their every move? You can enjoy the pleasure of doing so by going on a lion safari! Depending on your location, your budget and your lifestyle, this site will give you information on the perfect safari to satisfy all your requirements and needs. You can choose from a tour in Canada to a thrilling voyage in Africa, knowing that with whatever expedition you pick, you're sure to have a lifetime of memories and a greater knowledge of these animals!
Choosing your Safaris
Make sure your Safari hosts uses a wide variety of hotels, lodges and tour operators to offer you the most flexibility and value for your vacation dollar. When comparing safaris, be sure to compare accommodations as well. Some tour operators will also give you a choice of product range allowing you to decide how many meals you want included, the type of accommodations you prefer and the type of safari package you prefer etc.
Good safari companies pride themselves in providing excellent customer service. Not only will they happily customize any itinerary for you, they should also guarantee your departure once your advance payment have been received and confirmation of your reservation has been made.
Most Safaris provide you with a welcome team that meets you at the airport upon arrival (and departure). The welcome team helps with luggage, hotel check in procedures, as well answer any questions you may have.
There is simply no destination like Africa. Come visit this enchanting land that so captivated Hemingway and Roosevelt. Africa has a large variety of landscapes, from golden brown grasslands to snow capped mountains. It's graceful herds of animal life are perhaps the most spectacular on earth, the stuff of children's dreams and fairy tales.
Selected Safaris
Situated overlooking a lake within Sabi Sand Game Reserve is the luxurious private game lodge, Chitwa Lodge. Architecturally planned to make the most of its environment, the bar and lounge cleverly blends into the trees to allow an exotic idealistic atmosphere. The entire lodge, accommodation included, features a blend of genuine African design with diverse European sophistication. The lodge has passionate staff who cater to your every need and are extremely passionate about their surroundings. Take a game drive guided by one of them in a Land Rover, to enjoy a true African experience. You will see a wide range of animals, the lion included as well as buffalos, leopard, rhinoceros, baboon, zebra, cheetah, elephant and more. For further enquiries, contact +27 (0) 11 883 1354. Read here for more information.
Based in Hamilton, Ontario, Canada, approximately 80km out of Toronto is the African Lion Safari.The reserve allows animals to roam freely within large fenced areas and you can either go in your own car or go on a guided bus tour at extra cost. You will see not only lions, but also elephants, baboons, giraffes, zebras and more! Depending on the season, the hours and rates differ but usually start from $16.95 and open from May to October. The African Lion Safari also offer other amenities and entertainment such as a water park, shows, boat cruise, gift shop, a restaurant and lots more. For additional information, please contact 1800 461 9453.
The Gir Wildlife Sanctuary is located in Junagadh, Gujarat in India and offers an insight into these beasts. With approximately 300 Asiatic Lions, the sanctuary is distinguished by its forest, a mix of flora including Acacia and Bunyan which is set amongst rivers and streams. Other animals include leopards, monkeys, antelopes, hyenas, boars, flamingos, eagles and more. For more information on the tours, contact + 91 141 2339668 .
The Botswana Study Safari is a more in-depth and informative discovery tour with opportunities to actually stop and look at magnificent lions as well other creatures, including elephants and leopards. This safari, in the north of South Africa, is more suitable for those with a deep interest in animals and wants to be a part of wildlife conservation efforts. Contact +44 (0)1285 643333 and ask for Mandy for more details.
Hwange Lion Study Safari is based in Zimbabwe, Africa and starts tours from June onwards, offering trips that carry six people complete with a professional guide and a member from the WildCRU lion research team. This close-knit style safari monitor these lions for conservation, as a quarter of lions in Zimbabwe are based in this establishment. You will be enriched with information and provided a special experience by participating in this tour. For further information, contact +44 1865 393 100.
Based near Mir Alam Tank in Hyderabad, and named after India's first prime minister, Nehru Zoological Park is the biggest park in India. Spread over 300 acres to accommodate its wide variety of animals and birds, the establishment runs a Lion Safari as well as other tours every day, except Monday as its closed, and has other attractions including a museum, children's train and elephant rides. For more details, contact + 91 040-4477355.
Sanjay Gandhi National Park located in Borivali in Mumbai, India is open all year round and is situated in stunning scenery created by incredible flora and fauna. Offering not only lion safaris but also other recreational activities such as visiting the deer park, partaking in meditation, exploring the caves and more, this park has something for everybody! Contact 91 22 2886 0362 for more details.
Kruger National Park offers a selection of budget and luxury safari expeditions and is able to cater for your desired group size. With excellent food, game viewing and superb accommodation to ensure that you enjoy your tour, you will be satisfied in every sense. Based in South Africa, the park strives to make certain you gain knowledge of lions by providing personal guides and offering excellent accommodation facilities to enjoy your stay whilst doing so. For more information, contact +27 44 884 1861 .
African Safari Destinations
Botswana - Botswana is a great safari experience. Like Sth Africa 20 years ago.Large herds of elephant and buffalo mingling with lions, tigers, giraffes in a unpopulated wilderness. The scenery is awesome
Egypt - Take a trip back through time as you explore the wonders of ancient Egypt. Begin your journey in Cairo and then spend 4 or 6 days on the mighty Nile River exploring pyramids, temples and wonders of nature.
Kenya - Safari is Swahili for "journey" and it is Kenya where safaris begin. Magnificent national parks and reserves brim with wildlife. Breath taking mountains and lush forests provide awe inspiring photographic opportunities.
Namibia - From its rugged mountains spectacular desert and skeleton coast, Namibia is a land of contrast and diversity. The impressive sand dunes of Sossusvlei are a must see for any visitor.
South Africa - Often referred to as a "World in One Country", South Africa has magnificent scenery, breathtaking coastlines, and one of Africa's most famous wildlife reserves, Kruger National Park.
Tanzania - Ngorongoro Crater, a World Heritage site is one of the most famous archeological sites in the world. Also home to a host of wildlife is the Serengeti National Park, stretching out for over 5100 sq. miles.
Zanzibar - To the coast off Tanzania, the spice Island of Zanzibar is a jewel worth a visit. And possibly the most well known sight of all, is the snow-capped tip of the Mt. Kilimanjaro.
Zimbabwe - If you are looking for adventure, Zimbabwe is the place. It is filled with sights and sound that will entice the traveler to return again and again. White water rafting, canoeing, bungi jumping, walking safaris .. etc.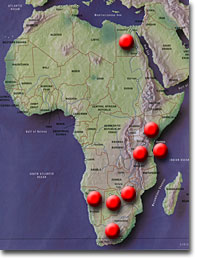 Botswana
ENTRY/EXIT REQUIREMENTS:
A passport is required. U.S. citizens are permitted stays up to 90 days without a visa. For additional information on entry requirements, travelers may contact:
Embassy of the Republic of Botswana
1531 - 1533 New Hampshire Ave, N.W.
Washington, D.C. 20036
telephone (202) 244-4990/1
fax (202) 244-4164
or
Permanent Mission of the Republic of Botswana to the United Nations
103 E. 37th St.
New York, NY, telephone
(212) 889-2277
fax (212) 725-5061
There are also honorary consuls in Los Angeles, San Francisco and Houston. Overseas inquiries should be made to the nearest Botswanan Embassy or Consulate.
Egypt
ENTRY REQUIREMENTS:
A passport and visa are required. Travelers can obtain a renewable 30-day tourist visa at any port of entry, except at Taba and Rafah, for a $15 fee, payable in U.S. dollars. Visitors arriving overland and/or those previously experiencing difficulty with their visa status in Egypt must obtain a visa prior to arrival. Military personnel arriving on commercial flights are not exempt from passport and visa requirements. Proof of Yellow Fever immunization is required if arriving from an infected area. Evidence of an AIDS test is required for everyone staying over 30 days. For additional entry requirements, U.S. citizens may contact:
Embassy of the Arab Republic of Egypt
3521 International Court, N.W.
Washington, D.C. 20008
(202) 895-5400
Kenya
ENTRY REQUIREMENTS:
A passport and visa are required. Visas should be obtained in advance, although airport visas are available. Travelers who opt to obtain an airport visa should expect delays upon arrival. There is a fee for the visa, whether obtained in advance or at the airport. Evidence of yellow fever immunization may be requested.
Travelers may obtain the latest information on visas as well as any additional details regarding entry requirements from:
the Embassy of Kenya
2249 R street, N.W.
Washington, D.C. 20008
telephone (202) 387-6101

Or the Kenyan Consulates General in Los Angeles and New York City. Persons outside the United States should contact the nearest Kenyan embassy or consulate.
Namibia
ENTRY/EXIT REQUIREMENTS:
A passport and visa are normally required. Bearers of U.S. passports who plan to visit Namibia for tourism for less than ninety (90) days can obtain visas at the port of entry and do not need visas prior to entering the country. Travelers coming for work, whether paid or voluntary, must obtain their visas prior to entering Namibia. Travelers should obtain the latest information from:
Embassy of Namibia
1605 New Hampshire Avenue NW
Washington, D.C. 20009
telephone (202) 986-0540

or
the Permanent Mission of Namibia to the U.N.
135 W. 36th St.
New York, NY 10016
telephone (212) 685-2003
fax (212) 685-1561

Overseas inquiries should be made to the nearest Namibian embassy or consulate.
Tanzania/Zanzibar/Mnemba
ENTRY REQUIREMENTS:
A passport and visa are required for travel to Tanzania. U.S. citizens with valid passports may obtain a visa either before arriving in Tanzania, or at any port of entry staffed by immigration officials. Also, foreigners should be prepared to show their passports when entering or exiting the Islands of Zanzibar. Detailed entry information may be obtained from:
Tanzanian Embassy
2139 R Street NW
Washington, DC 20008
telephone (202) 939-6125

or
Tanzanian Permanent Mission to the United Nations
205 East 42nd Street, 13th Floor
New York, NY 10017
telephone (212) 972-9160.

Overseas inquiries should be made to the nearest Namibian embassy or consulate.
South Africa
ENTRY REQUIREMENTS:
South Africa has tightened its visa requirements for certain categories of visitors. Only visitors on tourism, short business consultations, or in transit do not require visas; others need visas or will be refused admission and returned to their point of origin. Travelers may obtain further information from:
The Embassy of South Africa
3051 Massachusetts Avenue, NW
Washington, D.C. 20008
telephone (202) 232-4400

Or the South African Consulates in Los Angeles, Chicago, or New York. Overseas, inquiries should be made at the nearest South African Embassy or Consulate.